UK films, TV, animation and games have won awards and thrilled audiences throughout 2022 in another banner year for entertainment in the UK. As we look ahead to an exciting 2023, we're taking a moment to celebrate some of the biggest hits of this year – because the Christmas break is the perfect time to catch up on any you may have missed.
In cinemas and on film streaming services this year, there were feature hits big and small. Kenneth Branagh won an Oscar for the screenplay of his charming semi-autobiographical account of growing up during the Troubles in Northern Ireland, Belfast. Then he directed and acted in Death On The Nile, the star-studded adaptation of Agatha Christie's murder mystery favourite that's a perfect winter escape. Emma Thompson achieved a similar double, starring in the achingly intimate Good Luck To You, Leo Grande as a woman looking for a new lease of life following the death of her husband, and then dialling up the comedy as the awful Miss Trunchbull in Matilda The Musical, adapted from the stage hit based on Roald Dahl's famous book..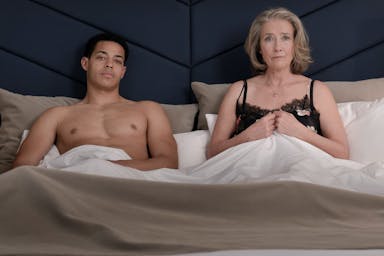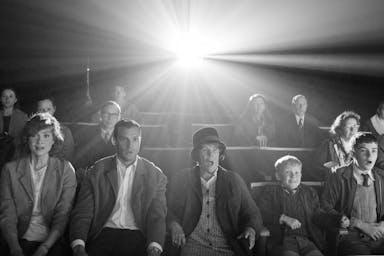 They were not the only established national treasures hard at work this year. Sam Mendes returned to the screen with Empire Of Light, a love letter to cinema set in a small seaside town in the 1980s and starring Oscar winners Olivia Colman (The Favourite) and Colin Firth (The King's Speech). Cannes darling Andrea Arnold (Fish Tank, American Honey) released Cow, a documentary about, yes, a cow. It's near-wordless but somehow impossibly moving. Another Cannes graduate was Joanna Hogg's The Souvenir Part II, a deeply felt follow-up to her 2019 semi-autobiographical hit about a young woman (Honor Swinton-Byrne) finding her voice as a filmmaker, with Tilda Swinton also starring.
And veteran director Roger Michell (Enduring Love, Notting Hill) released The Duke, an unlikely and deeply charming heist movie starring acting greats Jim Broadbent (Iris) and Helen Mirren (The Queen). Joe Wright, of Pride & Prejudice and Atonement fame, also returned with Cyrano, a musical take on the classic French romance starring Peter Dinklage and Haley Bennet. If that wasn't enough acting royalty for you, Downton Abbey: A New Era returned to screens with all of its upstairs/downstairs drama in an English country house. Old hands like Maggie Smith (The Lady In The Van) were back again, along with new arrivals like Dominic West (The Crown).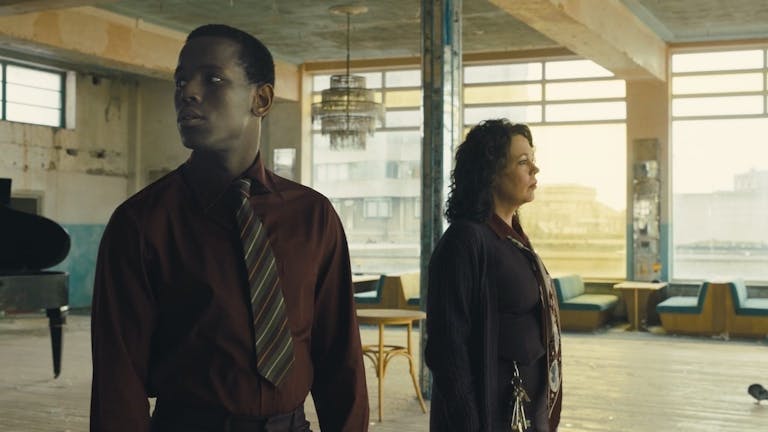 But this was also a year where some extraordinary films came from new directors. The Electric Life Of Louis Wain was the first solo feature directorial project by Will Sharpe (also an actor currently onscreen in The White Lotus), and told the extraordinary true story of the titular artist with the help of animated flourishes and a committed performance from Benedict Cumberbatch (The Power Of The Dog, The Imitation Game). Ratcheting up the tension to nearly unbearable levels was Philip Barantini's debut, Boiling Point, a single-shot achievement that's also a riveting piece of drama as chef Andy Jones sees his life fall apart around him over one busy night at a bustling restaurant. A debutant animation studio, Lockwood Studios, also had its first hit with the hilarious Ron's Gone Wrong, about a robot helper that goes, well, wrong.

UK animation had a fantastic year with a host of prolific studios leading the way on innovation and talent. Four-time Oscar-winning studio Aardman Animations brought us stop-motion musical Robin, Robin; trailblazing outfit Nexus's The House was a spellbinding stop-motion anthology, which went on to win at this year's Primetime Emmy Awards; and up for an Oscar for Best Animated Short Film was Affairs of the Art, a wildly funny and crude story of a woman pursuing her dreams later in life.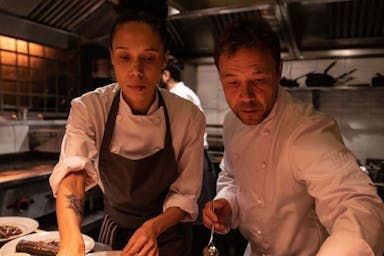 Towards the end of the year, Charlotte Wells' Aftersun moved audiences with its simple yet hugely evocative account of a father-daughter holiday, based on Wells' own experiences and starring Paul Mescal (Normal People) and jaw-dropping newcomer Frankie Corio. That cleaned up at the British Independent Film Awards in early December with seven wins. Likely to follow it next year is Mark Jenkin's lo-fi horror Enys Men, the follow up to his extraordinary Bait in 2019. Shooting once again in Cornwall and in black-and-white 16mm film, he's made something quite unlike anything else out there.
On TV, we said a fond goodbye to some favourites this year. The epic crime drama Peaky Blinders wrapped up its sixth and final season, after taking its characters across nearly 20 years of British history between the two World Wars. Also going out with a bang was Killing Eve. That show that introduced us to the world's favourite assassin, Jodie Comer's Villanelle, and made us wonder if more assassins should wear pink ballgowns. On a thoroughly comic note, 2022 also saw the end of Derry Girls, the hilarious story of teenage life in Northern Ireland at the tail end of the Troubles. It won unexpected fans all over the world – including Chelsea Clinton, who made a cameo, and legendary film director Martin Scorsese.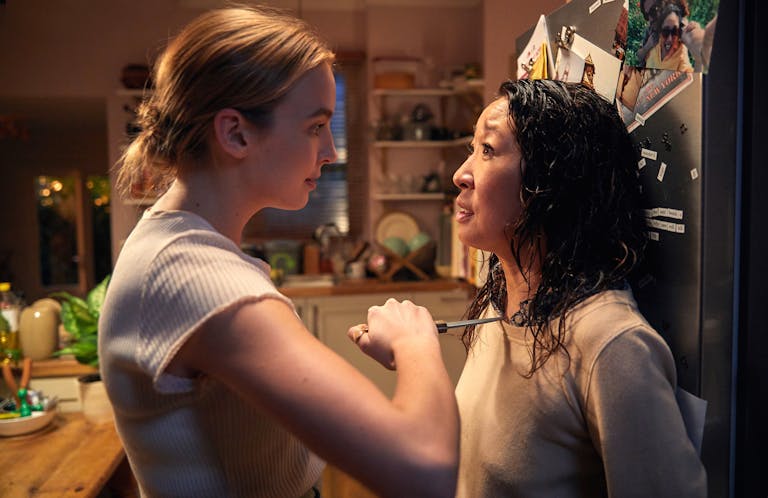 But as each show ended, new ones appeared to keep us thrilled. The legendary BBC Studios Natural History Unit and their spiritual leader David Attenborough reunited once more to bring us an extraordinary look at plants in The Green Planet. There was fact-based drama in This Is Going To Hurt, with Ben Whishaw starring as an overworked doctor in the adaptation of Adam Kay's best-selling book, taken from his own experiences as a junior doctor. Another drama based on a true story was Sherwood, with David Morrisey (The Walking Dead, State Of Play) as a policeman investigating the death of a union activist.

Of course, that wasn't the only hit thriller of the year. The English stars Emily Blunt (Mary Poppins Returns, The Girl On The Train) as a noblewoman looking for revenge in the Old West, while The Responder sees Martin Freeman (Sherlock) play a disgraced cop still trying to help his community. Oscar winner Gary Oldman (Darkest Hour) gave us not one but two seasons of spycraft and conspiracy in Slow Horses, and frankly even that wasn't enough: happily it's already been renewed for two more.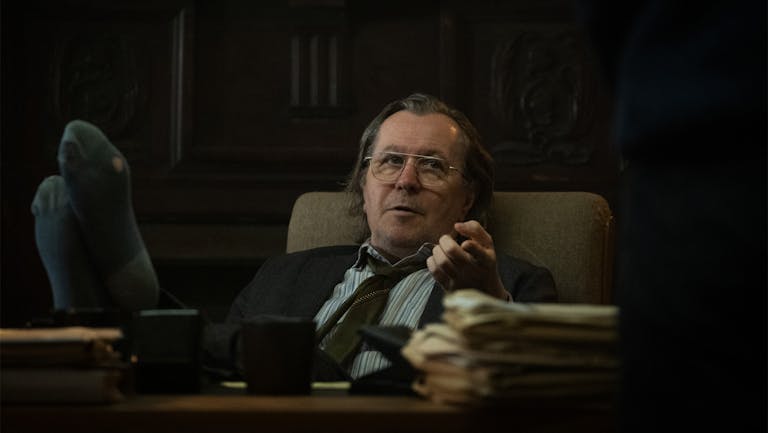 Meanwhile the UK games industry has not been sitting idle. In fact, it's been pushing in new directions. Need For Speed Unbound was a major hit for Criterion Games, with reviewers calling it the best new game in the series for years. F1 22, from Codemasters, also gave gamers the chance to rev their engines with more realistic weather and physics than ever before. For those who prefer their action a little more fantastical, there were the airbound adventures of Skies Of Chaos from Brox Corp, or the strategy of Autonauts Vs Piratebots from Curve Games.

And the sky was not the limit. UK games companies also allowed you to brave the horrors of The Quarry, from Supermassive, or of the underwater terrors of Silt, from Spiral Circus. There were fantasy worlds in Little Orpheus (The Chinese Room) and Tin Hearts (Rogue Sun). You could experience epic drama in As Dusk Falls, from Interior Night, or explore sci-fi worlds in Citizen Sleeper from Jump Over The Age.

The sheer wealth of great entertainment coming across all these formats this year may seem intimidating at times, but that just means that there's something for everyone to enjoy. As we head into 2023, there's still time to go exploring through all these worlds of film, TV, animation and games, and find the stories, characters and adventures that speak to you.