If you are struggling to let go of tennis after two straight weeks of Wimbledon, or getting deep into soccer due to the Women's World Cup, there's a way that film, TV and games can help. At least, they can feed your new addiction. Whatever sport you're interested in, the chances are that there's a great UK-made story to interest you, and we've gathered some of the best here...
TENNIS
Wean yourself off the tennis – at least until the US Open – with a few helpful movies. There is some cheery wish-fulfilment fantasy in Wimbledon, the 2004 rom-com that sees an unlikely underdog (Paul Bettany) contend for the title while falling for a rising US star (Kirsten Dunst). The more fact-based Battle of the Sexes stars Emma Stone as Billie Jean King, at the height of her '70s career but still hiding her sexuality, and Steve Carell as Bobby Riggs, the fading men's star who challenged her to prove men's innate superiority in the game. The stakes were soaringly high for both as they went into an unlikely show match that changed tennis forever. And on Apple TV there's the two-part documentary by Alex Gibney, Boom Boom: The World Vs Boris Becker, about the tempestuous and sometimes troubled career of the great '90s star.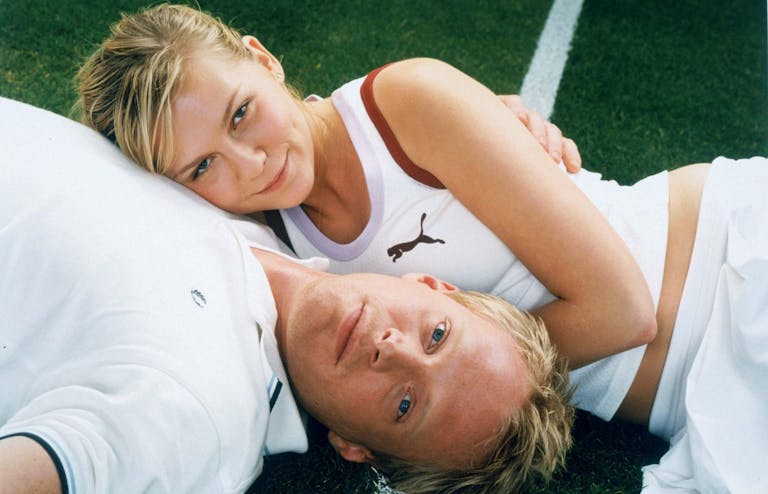 SOCCER
If you have left Wimbledon behind for the World Cup, there are two films that are bound to be on rotation for the players. Gregory's Girl is Bill Forsyth's charming 1981 coming-of-age comedy about a girl, Dorothy (Dee Hepburn) who joins the boys' football team at her school and outplays all her team mates. Gregory (John Gordon Sinclair) is smitten, but doesn't quite know how to ask her out. Cue romantic misunderstandings and fun soccer scenes. More recently, Bend It Like Beckham was Gurinder Chadha's film with breakout roles for Keira Knightley and Parminder Nagra as two would-be footballers who have to negotiate family expectations and social prejudice to shine in their local team.
If you want to  watch men's soccer, there's World War II nonsense in Escape to Victory, which features soccer great Pele, film great Sylvester Stallone and members of Ipswich Town as prisoners of war playing their Nazi captors. Or get involved in the action, try Sociable Soccer, the multi-platform arcade style soccer game.
There are slightly more down-to-Earth stories in When Saturday Comes, starring Sean Bean, and you can go more fact-based with the disastrous story of Brian Clough's tenure as manager of Leeds United, The Damned United. Directed by Tom Hooper (Les Miserables) and starring Michael Sheen (Good Omens) it's a story of arrogance and clashing egos. There's a more uplifting tone for Sheen's Good Omens co-star David Tennant in United, set after the plane crash tragedy that left half of the Manchester United team of 1958 dead or hospitalised. With the help of Jack O'Connell's Bobby Charlton, Tennant's Jimmy Murphy tries to hold the young and traumatised players together.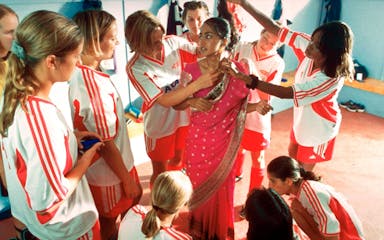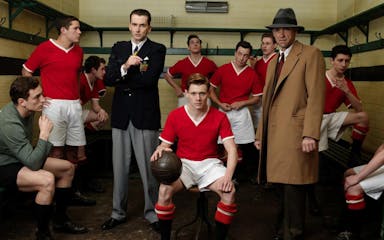 RACING
The British Grand Prix is on August 4, and to get into that racing spirit you could try high-octane games like Grid Legends or Need for Speed or simply F1 22. On the screen, documentary Senna from director Asif Kapadia (Amy) tells the story of the great Brazilian driver, or you can relive the 1970s rivalry of James Hunt (Chris Hemsworth) and Niki Lauda (Daniel Bruhl) in Ron Howard's Rush.
RUNNING
To get into running from the comfort of your sofa try Chariots of Fire or The Loneliness of the Long Distance Runner, two film classics that have become landmarks of British film from directors Hugh Hudson and Lindsay Anderson respectively. A more recent and lighter offering is Simon Pegg's likeable loser trying his hand – or rather legs – at a marathon in Run Fat Boy Run.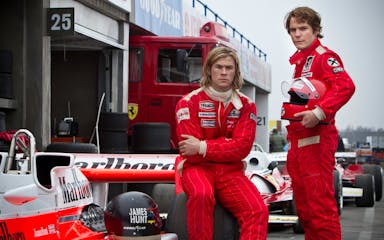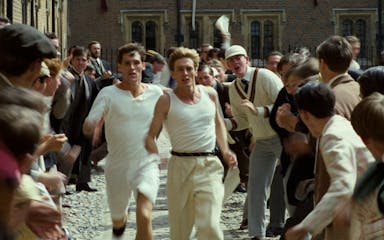 WATER SPORTS AND CYCLING
Rowing is the subject for Oxford Blues, starring a young Rob Lowe, Cary Elwes (Mission: Impossible: Dead Reckoning Part One) and the late Julian Sands (A Room With A View). Sally El Hosaini's The Swimmers is an extraordinary true story of refugees, while a rather less inspiring attempt to beat the odds is at the heart of The Program, an account of Lance Armstrong's (Ben Foster) long campaign against those who suspected him of doping. That was directed by Stephen Frears (Dangerous Liaisons, The Queen).
BOXING, WRESTLING, CRICKET AND GOLF
Boxing fans need to see Paddy Considine's heartbreaking drama Journeyman, and to watch Daniel Day Lewis reckon with both opponents and the IRA in Northern Irish drama The Boxer from director Jim Sheridan (In the Name of the Father). For wrestlers, Florence Pugh has fun breaking into the WWE in Fighting with my Family alongside Jack Lowden (Dunkirk), Nick Frost (Hot Fuzz) and The Rock. For rugby fans, Richard Harris gives a steely performance in This Sporting Life, while cricketers should try the documentary Fire in Babylon, about the record-breaking West Indies cricket team of the late 1970s. For golfers there's documentary Full Swing, behind the scenes of the PGA Tour.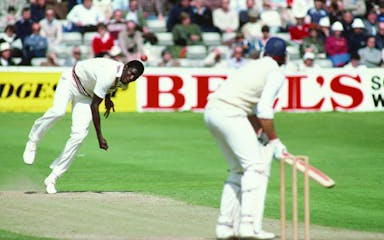 EXTREME SPORTS AND UNLIKELY UNDERDOGS
Extreme or imaginary sports form the focus of OlliOlli World (skateboarding), Rollerdrome (a blend of extreme sports tricks with high intensity combat) and Rally Road Racers (long-distance rally driving by talking animals). But perhaps the most British sports genre of all is our fascination with losers who may not be untalented but who never had a serious shot. Taron Egerton (Rocketman) and Hugh Jackman star in Eddie the Eagle, about the famously disastrous ski-jumper, and Mark Rylance (Wolf Hall) stars as The Phantom of the Open, Maurice Flitcroft, who shot the worst score ever recorded in an Open championship. If there's a lot to be said for celebrating athletic greatness, perhaps there's also something to be said for celebrating those who try hard without success. Or just staying at home and watching the lot of them.