Focus on the Emmys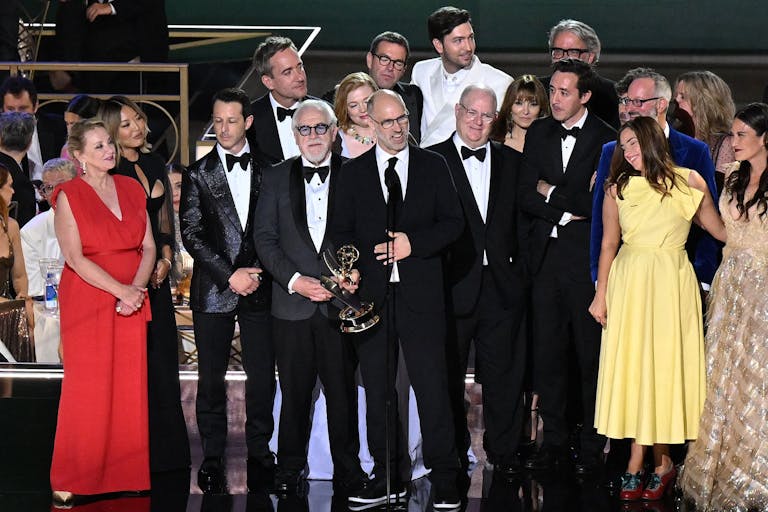 The biggest night in the US television calendar: the Prime Time Emmys. This year's ceremony, on September 12, marked a full return to its pre-pandemic venue and scale, making it more exciting for the nominees than ever. There was no shortage of UK actors in contention to take home a winged statuette on the night; the question in some categories was which of the many British nominees would beat the rest.
Certain stand-out shows inevitably get showered with nominations: case in point is the brilliant Succession, the dramatic, satirical portrayal of the power struggles in a media billionaire's family which won Outstanding Drama Series this year. Brian Cox (Rob Roy, The Escapist) was again nominated as Outstanding Lead Actor in a Drama Series for his role as prickly patriarch Logan Roy, and Matthew Macfadyen (Operation Mincemeat) took home the award for Outstanding Supporting Actor as his desperately scheming son-in-law. The transatlantic show picked up a phenomenal 12 nods, with five more for acting, one for writing and three for directing – including one for British director Mark Mylod, who has also worked on hit TV like Cold Feet and Shameless. Also in the Drama category, Jodie Comer was once again nominated as Lead Actress for Killing Eve, an accolade she won for the same role in 2019. Recently, the prolific Liverpudlian has been busy on stage, as well as making films like The Last Duel and powerful TV dramas such as COVID-19 drama The Help, for which she took home her second Leading Actress BAFTA award.
Another title with a locker room full of nominations was soccer comedy Ted Lasso. No fewer than three of its cast battled it out in two separate categories. The Outstanding Supporting Actor category was home to Nick Mohammed (Christopher Robin, The Kid Who Would Be King), Toheeb Jimon (The French Dispatch) and Brett Goldstein (Superbob, Adult Life Skills). Goldstein took the award previously and went on to bag it for a second time this year. He has recently been cast as demigod Hercules in the Marvel Universe.
The women of Ted Lasso didn't lag behind. Sarah Niles (Rocks, Netflix's The Sandman) was nominated for her role as Ted's psychologist, as were club media manager Juno Temple (Little Birds, Far From The Madding Crowd, The Dark Knight Rises) and club owner Hannah Waddingham (Game Of Thrones, Sex Education, Benidorm). Waddingham won last year, and whilst the award didn't go to Ted Lasso this time, they played a blinder, as the soccer fans say.
The Ted Lasso categories were not the only cases of three UK actors competing for a single prize. The Outstanding Lead Actor In A Limited Series nominated Colin Firth for true crime thriller The Staircase, Andrew Garfield for faith-based police drama Under The Banner Of Heaven and Himesh Patel for apocalyptic drama Station Eleven. Amazingly, this was only Firth's second ever Emmy nomination: he was recognised for Conspiracy in 2001, but somehow overlooked for his definitive Mr Darcy in Pride & Prejudice back in 1995. Meanwhile it was a first nomination for Spider-Man actor Garfield, who showed his range in dramas like Never Let Me Go and Breathe before this latest triumph, and for Yesterday's Patel, who's swiftly been garnering Hollywood attention in films like Christopher Nolan's Tenet and The Aeronauts.
Finally, some of Britain's brightest upcoming stars received the first Emmy nod that may help them to the next career milestone. Downton Abbey's Lily James was up for Outstanding Lead Actress In A Limited Series for her unrecognisable turn as Pamela Anderson in Pam & Tommy, while Wild Bill's Will Poulter competed for Outstanding Supporting Actor for his performance as a conflicted pharmaceutical salesman in Dopesick.
It was a huge night for all the nominees, and really for TV fans as well. In this new Golden Age of great streaming and broadcast television, with original stories and memorable characters, there seems to be no end to the creativity and talent on offer. Statuettes for everyone! It's the only way to reward them all fairly.