In Focus: Wales on Screen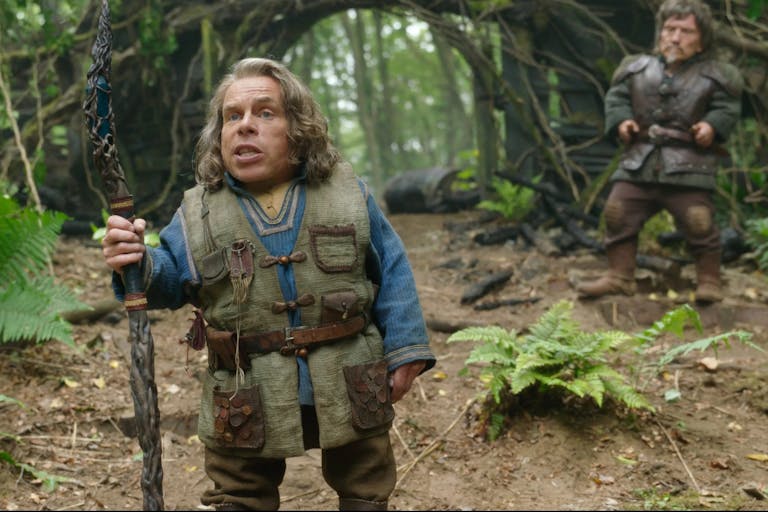 This week brings a long-awaited treat for a generation of fantasy fans: a TV show sequel to Ron Howard's 1988 mini-epic Willow, also titled Willow. Like the original film, this one boasts adventure, wannabe magicians and epic scenery. But unlike its predecessor, this show was shot in the stunning mountains and valleys of Wales, an increasingly popular destination for filmmakers.
Willow is one of the highest-profile TV shows to base itself in Wales in recent years. The Disney+ show sees Warwick Davis, a veteran of Star Wars and Harry Potter, return as sorcerer Willow Ufgood. He's a family man, small in stature but large in courage, who once rescued the baby princess Elora Danan from an evil queen, Bavmorda, and earned the loyalty of that queen's daughter, Sorsha (Joanne Whalley). Now he must rescue Sorsha's kidnapped son with the help of the boy's twin (Ruby Cruz), once again crossing a war-torn and magical land that might bear a passing resemblance to the national parks of the Brecon Beacons or Snowdonia.
The Lucasfilm production, however, is hardly the first to exploit the enormous natural beauty and rich culture of Wales. For a small country, it's known for producing poets and singers in astonishing numbers, and perhaps that's why fantasy stories in particular have found a home there. The BBC's Doctor Who led the way almost 20 years ago, choosing Cardiff as its studio home and venturing out around the country in search of alien landscapes.
More recently the barnstorming HBO adaptation of Philip Pullman's cult series of books, His Dark Materials, also made its home in Wales for all three seasons (the finale arrives in December). That turned sites like the ironworks of Blaenavon and the Vale Of Glamorgan into visions of parallel universes. The charming 2020 adaptation of Frances Hodgson Burnett's The Secret Garden also made Wales its home, using the stunning laburnum arch of Bodnant Garden in Conwy as a key part of the titular retreat. And on a more epic scale, Guy Ritchie's medieval romp King Arthur: Legend Of The Sword shot in Capel Curig and Eryri (Snowdonia), where giant rampaging elephants tore into his Camelot.
But shooting in Wales doesn't rely only on portrayals of magical kingdoms and fantastical worlds. Much more grounded stories have also taken root, especially in the valleys of South Wales. 2020's Dream Horse was the unlikely true story of a race horse raised by a syndicate in a small-town in Wales to compete in the Welsh Grand National. Ethel & Ernest, from 2016, was a gentle animated biography based on the book by illustrator Raymond Briggs, chronicling the lives of his parents. 
Literary adaptations have also found a home there – as you might expect in the land of Dylan Thomas. TV's War Of The Worlds, based on the HG Wells classic and starring Gabriel Byrne, was back in Wales recently for its third season, while upcoming Agatha Christie whodunnit Why Didn't They Ask Evans? saw Will Poulter and Hugh Laurie recently shooting there. Another literary adaptation – and one which is sure to cause a stir –  is Netflix's Lady Chatterley's Lover which stars The Crown's Emma Corrin and '71's Jack O'Connell, who found themselves shooting love scenes in the open countryside. Those days on set are never easy – but at least they had some stunning scenery to serve as a distraction. And as more and more films and TV shows shoot in Wales – or Cymru in Welsh, meaning 'friends' or 'fellow countrymen' - we're all going to get the chance to bask in its incredible landscapes.