Adeel Akhtar on Ali & Ava: "When we think about all the stories we hear about Asian guys from Bradford, that's not one of them"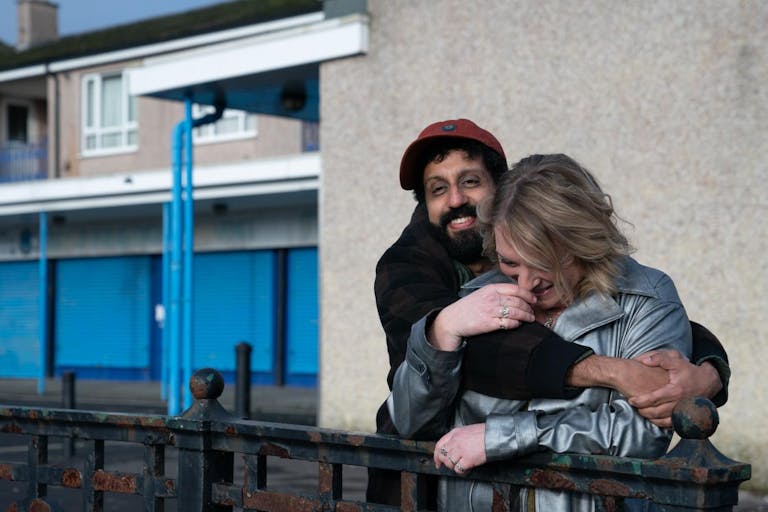 Cinema showtimes
You must allow us to access your location in order to see showtimes near you.
Adeel Akhtar is BAFTA nominated for his turn as a Bradford landlord and DJ who falls for a country-music-loving classroom assistant in Ali & Ava. Here he talks about flirting, identity and his character's real-life inspiration.
Adeel Akhtar's breakthrough role was as a bumbling terrorist in Chris Morris's suicide-bomber satire Four Lions (2010). Since then, he's become a familiar face in film and TV, popping up as a supporting player in The Night Manager (2016) and Apple Tree Yard (2017). He was nominated for a BAFTA for his inspired turn as a survivalist conspiracy theorist in cult TV series Utopia (2013), and won a BAFTA for his role in the heart-wrenching Murdered by My Father (2016). More recently, his endearing performance as the romantic interest in Daisy Haggard's Back to Life (2019-) won him great acclaim. 
Now in Clio Barnard's Bradford-set social-realist Ali & Ava, he plays the romantic lead. Akhtar stars as Pakistani-British Ali, a character based on Bradford actor, DJ and landlord Moey Hassan, whom Barnard met while working on The Arbor (2010). 
Claire Rushbrook co-stars as Irish-British classroom assistant Ava. Their meet-cute is in the pouring rain at the school gates. Ali kindly offers to drive Ava home to the Holme Wood estate, cracking a joke about his car getting pelted with stones. It does, but he diffuses the situation by blasting out a track by MC Innes and engaging the kids in a joyful sing-a-long. 
Ali and Ava have conflicting musical tastes. She loves folk and country; he adores rap, punk, ska and electro. But through the exchange of music and culture, a tender romance ignites between two lonely souls.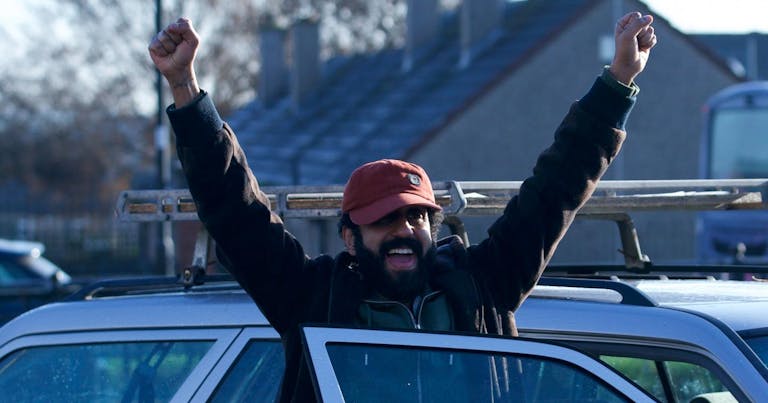 When Barnard approached you to play Ali, how did she explain the character and how did the two of you evolve the role?
We met at Toronto Film Festival. We talked about lots of stuff – life stuff, films we liked, music we liked. Then we had another meeting where she talked very loosely about the idea of this film. My character's based on Moey [Hassan], and she had recorded interviews and transcripts of him. I started listening to the transcripts and started reading some of the stuff. Right there and then I asked her if she wanted to hot-seat me as the character.
Did you spend much time with Moey to prepare?
We had lots of conversations. The way I characterised the part was through listening to Moey's accent and making sure I got some nuances of that, then other bits were me. There was a wonderful marriage between this thing that was grounded in reality, and then these other parts that were fictionalised. I had room to make up parts myself.
Ali is very charismatic and great at flirting – did that come naturally?
Not really! Moey is like that – maybe he gave me the invitation to do that. Moey is super charismatic and so caring, and is always someone who will crack a joke, maybe even at his own expense, to make someone laugh, just to make sure someone is feeling comfortable and at ease. He's a really friendly, open guy.
There's a Slovakian family in the film who Ali helps. Did Moey talk to you much about his experience with his tenants?
Moey said that he loves his tenants. He loves that family. It made me a bit teary when I first heard it, because the reason he does that is because he sees his own history in that, and in some way he sees the idea of how difficult it was for his dad, without a great command of English, to survive in Bradford at that time. There's something that made me really connected to that but also frustrated. When we think about all the stories we hear about Asian guys from Bradford, that's not one of them. It's nice to shine a light on that. 
There are many steamy scenes in Ali & Ava, including the one where you set off on a train trip with Ava. The visuals are reminiscent of Brief Encounter (1945).
Yeah, Brief Encounter did come up at that point, especially when I'm grabbing her hand at that moment and running on the platform. These were reference points where we could play within the parameters of that a little bit. There was a nod to that film, but it was done in a very Clio Barnardian way. There couldn't be that many longing looks though cos then it wouldn't be her film!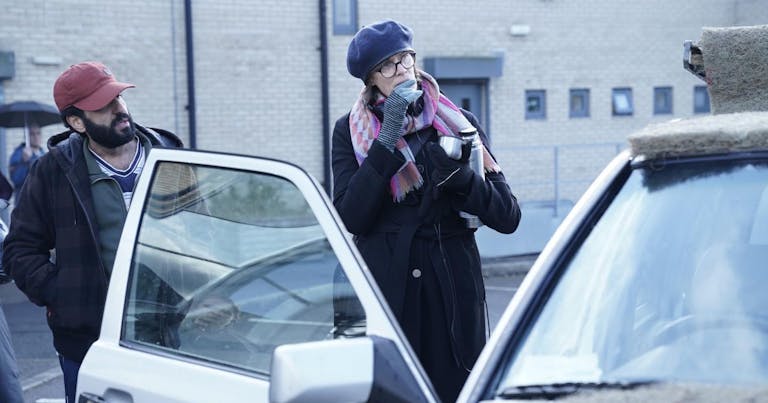 There are bands like The Specials on the soundtrack that bring to mind hopeful rebellion against bigoted attitudes. Were the politics of the film something that attracted you to the role?
What attracted me was the way that the film is inherently political without signposting anything. Its politics are integral to how these people react and interact with each other. If I was a writer, I could articulate it better, but there's something inherently political about these two people where one lives in a predominantly Asian area and the other in a predominantly white area, but they bridge this gap.
Ali and Ava find acceptance and love through sharing music, and by discussing violence and loss. Barnard has talked about a need to address the impact and legacy of the violence of British rule in Ireland and India in this film.
The exciting thing for me was that it was dealing with really complex issues about identity, race, ethnicity, belonging and this post-colonial world that we're living in. The symbolism of them exchanging musical tastes; there's something about that. When you grow up with a piece of music, the way you wear the t-shirt becomes how you present yourself to the world. To allow another piece of music to enter your consciousness and be as important as the thing you thought was important before, there's something very symbolically powerful about that. Essentially, it's saying there's more things that bring us together than pull us apart, but without being on a lectern and preaching about it. We're all in this together. 
Undercliffe Cemetery overlooks Bradford and is a special place for Ali and Ava to meet. While shooting in Bradford did any particular place become special to you?
I think all of Bradford, because of driving around the place. Everything was so beautiful and filmic. That's got something to do with Clio, because she forces your attention on to something that you would ordinarily look over. She frames it, and she says you have to pay attention to this because it's wonderful and it has value. I just fell in love with being there.
You exude admiration for Clio. Can you tell me why you wanted to work with her?
I remember seeing The Arbor, and I thought it was really fascinating. Then she transitioned into The Selfish Giant (2013), and I knew that parts of that were also based on the real-life experiences of those young lads who were in it. I found that really exciting to be a part of something that was playing around with the idea of performance. But there was a real lightness to the films. They were really celebratory of the place and the people. More often than not, you don't find that, especially when it's social realism; it can be very dour and heavy. 
She's very delicate with what she does. As a person and as a director she listens very intently. She's this quiet presence who's urging you to be and do better.